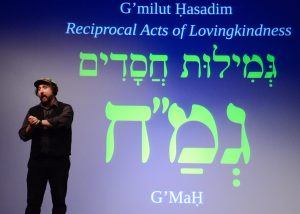 About Aharon N. Varady
Aharon's Omphalos is the hobbit hole of Aharon Varady, founding director of the Open Siddur Project. He is a community planner and environmental educator working to improve stewardship of the Public Domain, be it the physical and natural commons of urban park systems or the creative and cultural commons of libraries and museums. His advocacy for open-source strategies in the Jewish community has been written about in the Atlantic Magazine, Tablet, and Haaretz. He is particularly interested in pedagogies for advancing ecological wisdom, developing creative and emotional intelligence, and realizing effective theurgical praxes . He welcomes your comments, personal messages, and kind words.
Related
"13243785_10154180639558718_431735170510627657_o"
is shared by Aharon N. Varady with a
Creative Commons Attribution-ShareAlike 4.0 International
copyleft license.