I picked up the compilation Ohm: The Early Gurus of Electronic Music from my local library a few years agoon the recommendation of a friend. I was prepared to be educated. I knew not to expect beautiful, haunting melodies as on Harold Budd and Brian Eno's Plateaux of Mirror as I had already experimented with the backcatalog of the Nonesuch label and done my time with Morton Subotnick and George Crumb. Yes; I was expecting discordance, primitive electronics emulating cubism, and experimenters doing their best with the limited and frustrating tools at their disposal. I did not want to be dissapointed by expecting wonderful and pretty music. This was gonna be pretty raw, with a heavy element of academic music school experimentation and composition. Karleheinz Stockhausen, Otto Luening, Oskar Sala, and Vladimir Ussachevsky were not easy to listen through, but I was learning and my ears were becoming well-tempered, like fine baroque organ pipes getting a workout in the blast factory.
But aside from the benefits of uneasy listening, I just wanted to share with you all a couple of the artists I found that actually were ear-opening if not outright enjoyable to listen to. Laurie Spiegel was perhaps the best find of all 42 artists. Listen to her 1974 composition "Appalachian Grove I". (If there is an "Appalachian Grove II" I… I really want to hear it too!) Short percussive notes moving into and out of phase, becoming longer and louder as the intertwining melodies reach various states of climax. Gorgeous. If you like it, check out her albums Obsolete Systems (compositions 1971-1983) and Unseen Worlds (compositions 1987-1990).
And then there was François Bayle. There is a mystery track on the Adam Douglas/Deeper than Space album Current (1996) which sounds like guitar peddle knobs modulating raw square tooth waves. But it sounds really neat! (I promise) Like the sound you might pick to molt your exoskeleton or change alter-egos and become a shaman. And it was this sound that I was reminded by when I heard "Rosace 3 from Vibrations Composees" by François Bayle. His albums weren't too easy to find when I was looking for them and they are not exploring melody at all. "Rosace 3" might actually be the nicest thing I've heard by him.
So there it is, from my ears to your point of reference via this M(usic bl)OG. Below is an image I found on a French site whilst searching for info on François Bayle. It's in French and there is more wierdness there also related in some way to another Musique Concrete composer on Ohm, Pierre Schaeffer.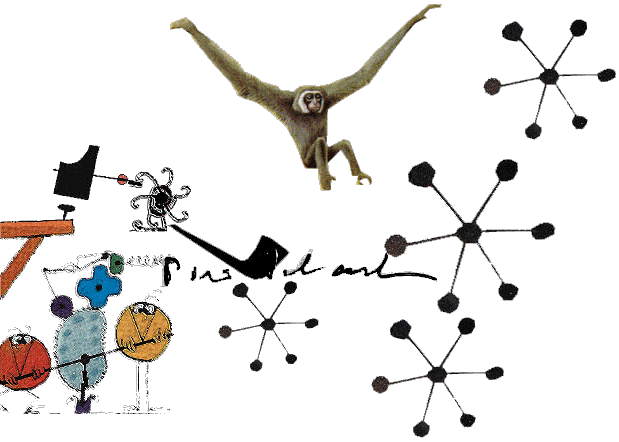 "François Bayle and Laurie Spiegel"
is shared by Aharon N. Varady with a
Creative Commons Attribution-ShareAlike 4.0 International
copyleft license.