Yesterday morning, I finally received the call that my background check came through. Just in time, I thought, since my one week reservation at Motel 6 was coming to an end. So in a reprise of my recent nomadic exertions in DC, late last evening I repacked my belongings into my rental car, and in anticipation of discovering all the details of my deployment acquired some portable gadgets and organizational tools from nearby chain retailers Office Depot and CompUSA. (I grabbed a Canon PIXMA ip90 compact photo printer, and Canon's Lide 500f scanner. The latter needs no AC adapter; it's powered only through the USB port making it quite a useful and portable scanner. The printer on the other hand, although small and portable, requires an AC adapter, was expensive, and as I learned today, one may easily be borrowed from FEMA's field office, so I will likely be bringing it back to compusa). I am now an official FEMA contractor with all the govt acoutrement to indicate this status: badge, laptop and cellphone. Now I'm waiting to actually be deployed.
My last evening at Motel 6 capped a week exploring Baton Rouge's vegetarian possibilites. Thinking I could find something at a Chinese restaurant I stopped down the road at the Chinese Inn, an example of classic American roadside architecture. The szechuan tofu was spicy but seemed hastily prepared, and a glass of water, when it eventually was provided, tasted funny just like Baton Rouge tap water.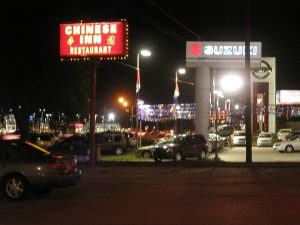 Good eats were found the next day at Taste of China, which had an all I could eat buffet, so I left stuffed. Plenty of veggie grub to be had there. Cheap and recommended if you have to eat off of the highway.
Ideally, there would be an inexpensive veggie restaurant downtown. Haven't found one yet, but I did locate Coffee Star, a nice cafe on Florida Blvd just east of Third Street. Free wi-fi, decent and relatively inexpensive chai, and comfortable digs. Nothing vegetarian though — even the tomato soup had meat stock. A fewblocks over is the levee, and I'll be visiting it after this post and cup of chai to take a few pics. Also, taking a cue from Richard Layman, I'll be taking pictures of so-called "street furniture": way finding signs and other unique streetscape characteristics of Baton Rouge, and whatever else strikes my planner's eye. My father's been taking pictures of urban streets for many years. Now that I've caught a bit of the bug I've realized that to take good urban pictures takes a good eye, some talent, and experience. So the ones you're seeing next to these posts are also documenting the development of my planner's eye.
My first meeting since I arrived this morning gave me a glimpse of the 25 or so other contractors working on the Long Term Recovery Project. I noticed I was one of the few to have actually have been cleared and FEMA badged. I was also one of the youngest. In my unscientific survey I observed the median age was close to 50. Schmoozing with a few of the other contractors was interrupted by the meeting — a wonderful, if all to brief, presentation on Louisana's colorful history by documentarian and local historian Jeff Duhe. It was a real pleasure meeting another historian so soon. There will be plenty of opportunities I think to network with some bright and interesting people here.
I was expecting some details of my deployment, but so far: not yet… sometime this afternoon I'm told. I hope to know soon because for all practical purposes I'm living out of my rental car today and need to make lodging accomodation for this evening wherever I'll be staying, in Baton Rouge, Lafayette, New Orleans, or wherever.
One more thing, I learned yesterday listeining to local public radio, WRKF 89.3FM, that Baton Rouge/Louisiana State University is the home of the writer and essayist Andrei Codrescu! (This is almost as cool as being in the town as Daniel Pinkwater). Maybe I'll run into Mr. Codrescu (or write to him).

"Checkout to nowhere"
is shared by Aharon N. Varady with a
Creative Commons Attribution-ShareAlike 4.0 International
copyleft license.