her voice
soft like honey
seeps into me
i can feel
intonations
resonating
in my ears
sweeten the
harsh world
with your
lavender voice
caressing my pen
torturing my fingers
write i must write
for you
and you
alone
Jennifer Wickboldt wrote the poem above, one of many available sprawled over old tripod user pages. Friday evening I had a long conversation with her. Later today she is being cremated. I can still see her sitting in my apartment, the apartment she used to live in before I came here to Baton Rouge. She was asking me about passover and mezuzahs. And she liked the band Red House Painters. She was very cute and had a boyfriend who loved her very much, many friends, and a dog named Latte. She was a magic person, so of course, she was constantly assaulted by demons who feast on vivacious creative people. Sunday morning they got their wish, convincing her to do herself in. She traded her future away for salvation from a troubled past. I am so sorry.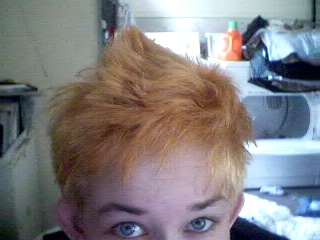 As my father says, tragedies like these remind us to hold each other tight and never take for granted the time we have with each other.

"Jennifer Wickboldt"
is shared by Aharon N. Varady with a
Creative Commons Attribution-ShareAlike 4.0 International
copyleft license.