I can forgive George Lucas for all of his late epic Star Wars prequels only because, only afterwards, did Lucas revisit his first film, the minimalist dystopia, THX -1138 (1971), correcting the audio artifacts that plagued the earlier video releases and making the soundtrack available on the DVD as a standalone special feature. (The soundtrack is also available independently on CD.)
If you've seen any of the original Mission Impossible episodes or seen Cool Hand Luke then you've heard Lalo Schifrin's incredible jazzy scores and sensitivity to the director's vision. For THX -1138, it is obvious that Schifrin was paying attention to the work of Wendy Carlos and Rachel Elkind, Carlos' teacher Vladimir Ussachevsky, and the plethora of sound explorers and music geeks pioneering the advent of electronic music and noise in the late 60s and 70s. Before this film, I had no idea Schifrin had dipped his toe in these (now) deep waters.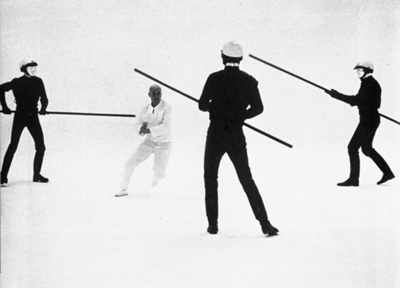 "THX-1138"
is shared by Aharon N. Varady with a
Creative Commons Attribution-ShareAlike 4.0 International
copyleft license.