I'm listening to Trans Harmonic Nights by Peter Baumann (1979) and it's hard to miss why Tangerine Dream sounded so much better before he left that seminal electronic-space jam band in 1977. The artist knew how to sequence baroque melodies and sing lullabies into vocoders. Baumann must have been an incredible catalyst for Tangerine Dream because even veteran TDreamer Edgar Froese's solo albums from this period sound lovely. (They do not after Baumann's exit).
Anyways, I'm posting about Baumann because the first track "This day" has a sequence that reminds me of the very influential (and embarrasingly [for me] sentimental teenage anthem) "Baba O'Riley" by the Who, Pete Townsend's homage to Terry Riley, on the album Who's Next (1969). If you love the organ sequence in "Baba O'Riley" but can't handle the memories that "Teenage Wastleand" exhumes from the long (or recently) buried grave of your adolescence, then you can listen instead to a 9:49 only instrumental version of the song on Pete Townshend's Lifehouse Chronicles: Disc 1 — Lifehouse Demos (1999). Unfortunately, this instrumental version excludes the riveting klezmer fiddle accompanyment (update: by Dave Arbus) at the end of the song. It also includes all the rock drumming from the original, I think, sounds very out of place on an all instrumental "Baba O'Riley." (I dream of Stereolab covering this with fiddle played by Jean-Luc Ponty).
The Who toured Germany in 1972 and performed Baba in Hamburg — a bootleg exists. Perhaps Baumann heard the song live then and it sparked his imagination for what it might be like to play Riley-esque instrumentals with a live band. Because that's what he was doing 2 years later with Tangerine Dream. (Baumann joined Tangerine Dream in 1972).
For those new to Tangerine Dream, permit me to recommend their live album from 1975, Ricochet. (Listen carefully for the industrial-psych breakdown with homage to Brian Eno). Below is a photo of Baumann inspiring a generation of blissed-out spacelings to grow their hair long and assume the waifish intensity that only those who channel long dead baroque composers endure.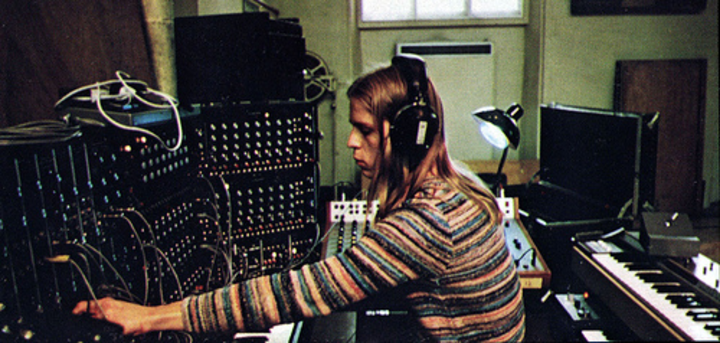 "Baba O'Riley and Peter Baumann"
is shared by Aharon N. Varady with a
Creative Commons Attribution-ShareAlike 4.0 International
copyleft license.