I listen to the punctuated tones and hypnotic melodies of gamelan music and I begin to understand why I become so flustered when trying to describe ambient to friends (and relatives, co-workers, strangers on blogs and listserves). Ethereal, atmospheric, and drone sounds also describe elements of the ambient spectrum, and in a way sets it so far apart from other music… try and describe the repeating, sometimes evolving melodicc patterns and textures and all I get back are blank looks — no one knows what I'm talking about… but everyone's heard what an industrial air conditioning unit sounds like. I think it's important in understanding ambient to describe some nuance between the drone style and gamelan styles in the genre.
The gamelan school (for lack of a better name) is the school which has the most easily recognizable influence on modern classical style of Minimalism. I'm remembering now that Indonesian Gamelan music is what inspired the late romantic compositions of Ravel, Satie and Debussy… ambient pre-cursors according to David Toop in hi s book on ambient music Ocean of Sound. For a good introduction to this progression, listen to the sample of Gamelan mixed into "Voyage, Part 1" on Brainticket's 1982 album Voyage. Once you hear it, you'll begin to spot it throughout ambient and classical minimalist compositions. Hear it on Controlled Bleeding's "Hymns from the Shadows, Parts 1-IV" (1996 on Inanition and Dark Shadows). Hear it in Terry Riley's Shri Camel (1968) and "Kometenmelodie" by Kraftwerk (1975, on Autobahn and the bootleg Concert Classics), as well as their other earlier exquisite xylophone melodies "Ruckzuck", "Tanzmusik", and "Klingklang" from their 1970-1971 albums Kraftwerk 1 and Kraftwerk 2.
What makes this music form so communicable in this period, I believe, is how easily it reminds us of non-video computer-human interfaces, with each bleep and bloop, or sequence of bleeps indicating one step, function (or malfunction) in the operating system. There is definitely something of a culture hook in the kitsch of sci-fi and the continued appeal of gadgetry and computers for this music. And this sensibility has long been used with wonderful effect by bands like Stereolab. Listen to these note swimming behind the pummeling beats of "Les Yper Yper Sound" on their Noises EP (1996, not to be confused with "Les Yper Sound"… what a difference one Yper makes!) and "Mr. Fantasy's Love" by Fantastic Plastic Machine on Luxury (1999). With vocoder, the computer motif is complete. The musical connection of bleeps, vocoder, punctuated melodic structures, and computer aesthetics had been brought together for the first time by Kraftwerk in their 1981 album Computerwelt. (Please correct me on this, readers).
While djing, long I fought the misconception among fellow djs that ambient music was all drones and no beats. This was a technical concern for them, as their modus depended heavily on the mastery of beat matching and other techniques… mine on what I could accomplish by multi-layering tracks (often with the need for more than 2 turntables). Their exposure had been limited to the drone-core etherics, atmospherics, and industrial noises which had had its own evolution from Brian Eno to Throbbing Gristle to Pauline Oliveros, Spectrum and Tristeza. More on drone and industrial ambient in another post though. If you haven't yet, I urge you to listen to an incredible mixture of the two styles of ambient in Controlled Bleeding's "Hyms from the Shadows, Parts I-IV."
Following image is from Peter Herchenröder's multi-media work "Computerwelt I" (found via trusty old google image search, and curiously located on the site of the Yiddishist, Nizza Thobi.)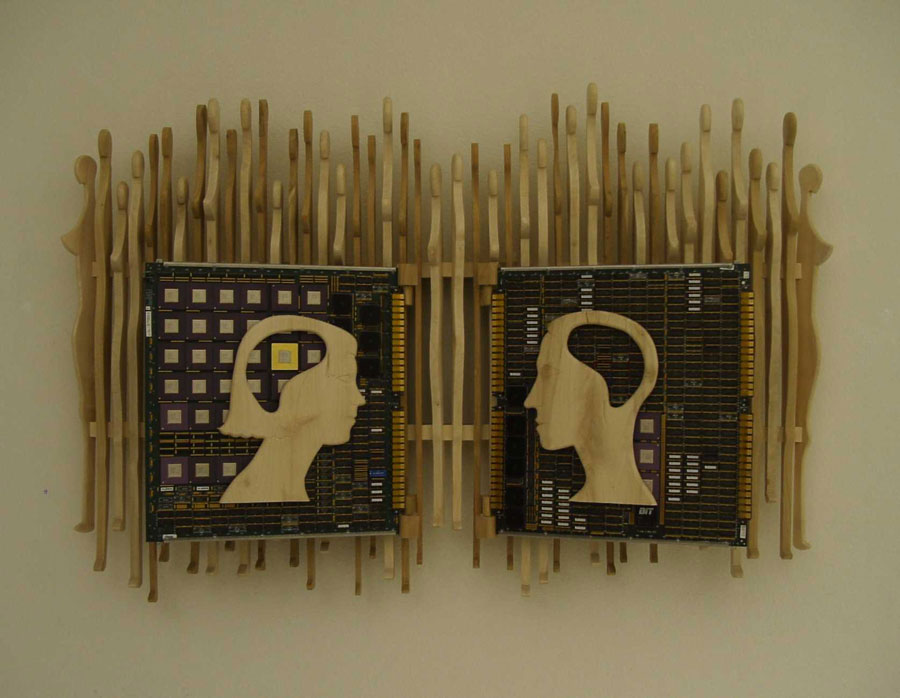 "Gamelan, Xylophone, and Computer Kitsch"
is shared by Aharon N. Varady with a
Creative Commons Attribution-ShareAlike 4.0 International
copyleft license.