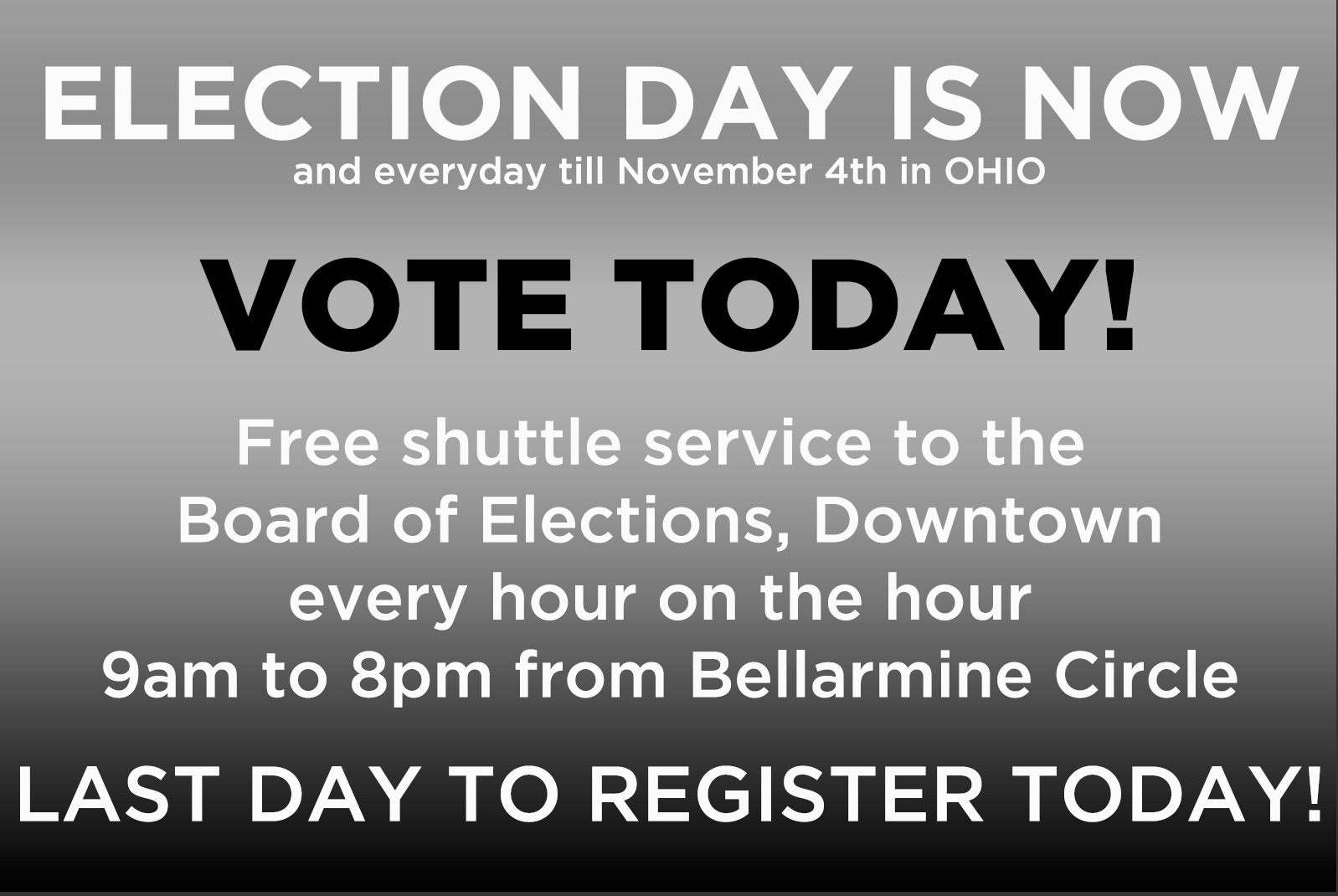 This is the last day of Golden Week, the week in Ohio when the periods for voter registration and early voting overlap allowing new voters to register and vote on the same day. Our teams are working hard to make one final push to get out the vote. I made posters like the one above for Xavier University. (If you like it and want to use it feel free. Here's the download: Election Day Is Now (poster art)).
Friday night our volunteer groups met up at Baba Budan's Cafe near campus. There I made the acquaintance of Erik Crew, another local Cincinnatian working on this effort. He's been writing at rubyhornet about Golden Week ("Golden What?"), his experience registering the homeless, and the issue of ex-felon disenfranchisement. Erik and I are an exception. Most of the volunteers have come in from other states (California, Michigan, Kentucky, etc.) and two are international; one traveled from Canada and another flew all the way from the UK. Their efforts are testament to the global concern for the future of this nation's leadership.
The party at Baba Budan's was co-sponsored by the Hip Hop Congress. Spoken word artists delivered poetry, some with dj backing. The emcee was the Divine Prince Hakeem. My ears perked up when he mentioned his connection to the Artistic Order of 144,000. The latter was the collective of my friend Obalaye Makaria. (Obalaye helped direct some funding for my research into Bond Hill's history four years ago.) Hakeem informed me that Obalaye's since moved to Seattle but calls in weekly to Cincinnati's black radio station, The Buzz. I'll be tuning in to hopefully hear from him.
Sunday morning I went with Erik to the A.M.E. Church in Bond Hill. (This is the church built at the corner of Reading Road and Seymour Ave. on the parking lot of what is now Jordan's Crossing and formerly Swifton Commons.) Our mission: to respectfully offer our shuttle services to any congregants come later today. We stayed for the 11am service. Rarely have I known a warmer and more welcoming community. After introducing ourselves, the congregants were invited to greet us personally. I really felt their love. I also enjoyed the relaxed yet uplifting spirit created by the church choir and its excellent band. The band leader and piano player informed us that the bassist, a young fellow, would be playing with Wynton Marsalis pretty soon and everyone gave him a nice applause. The band leader also announced a group of black youth called the Ritz Chamber Players who will be performing with the Cincinnati Symphony Orchestra on October 9th. He invited everyone to attend the concert and udged everyone to develop an eclectic taste in all sorts of musical styles including classical and hip hop in addition to gospel and rock and roll.
Reverend Alphonse Allen preached about the necessity of striving to improve even when you feel comfortable where you're at. In developing this idea he used the story in Deuteronomy of God commanding the Israelites to prepare to take possession of the land of Canaan while they camped on the east side of the Jordan after their 40 years of travel in the wilderness. In Jewish circles I think I've heard the same idea developed but from the command of God to Abram to lech l'cha l'artzecha, go out to a land that he will show you. Thinking about it, there's a good parallel between the two stories in Genesis and Deuteronomy. Below is an image I gleaned of their lovely sanctuary.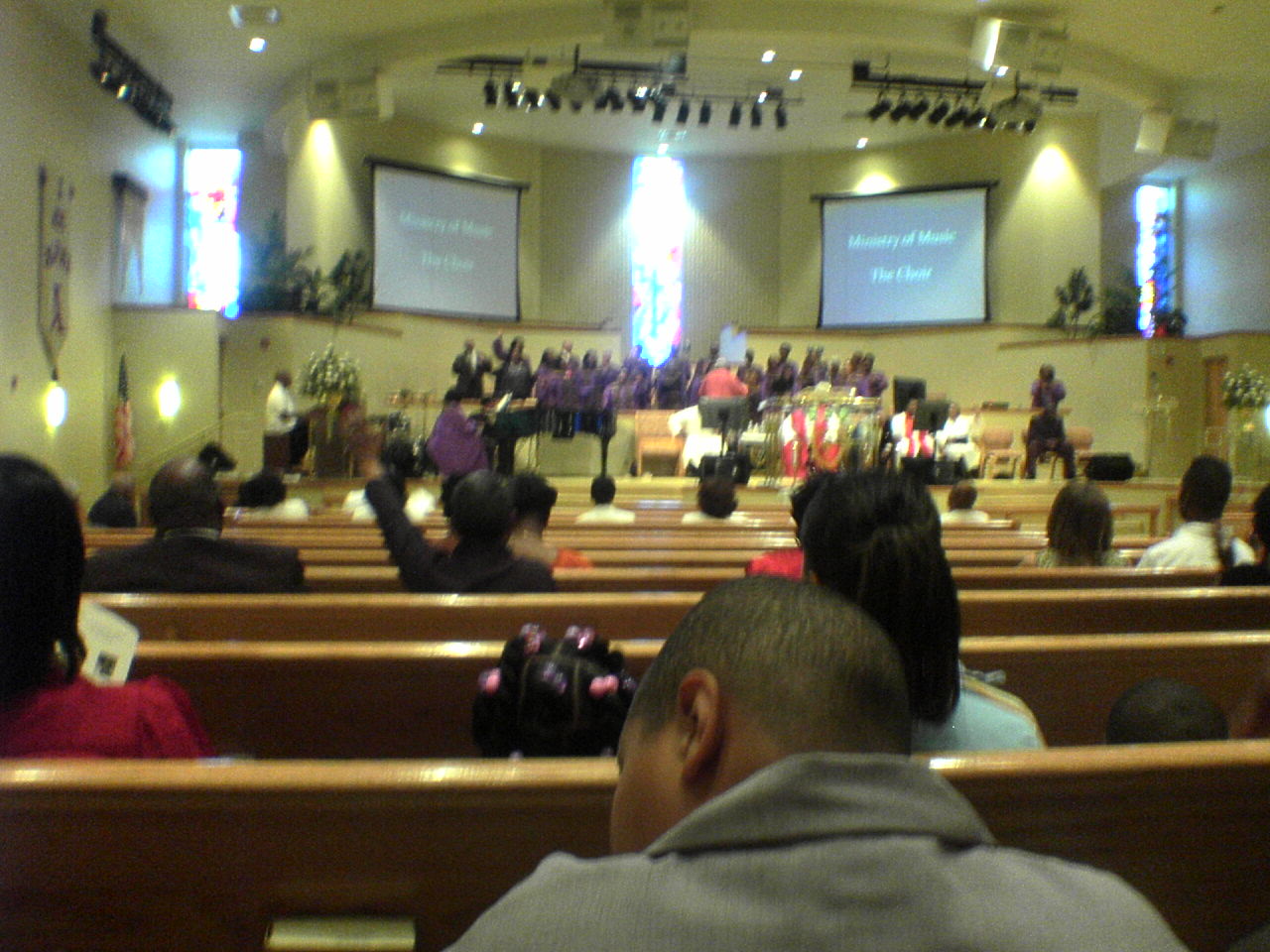 "ELECTION DAY IS NOW"
is shared by Aharon N. Varady with a
Creative Commons Attribution-ShareAlike 4.0 International
copyleft license.