Vote Today Ohio sent out the latest numbers just after midnight this morning on how many early voters our teams managed to shuttle over to the Early Voting Centers.
9/30: 380 votes
10/1: 429 votes, plus 121 new registrations
10/2: 449 votes, plus 306 new registrations
10/3: 776 votes, plus 391 new registrations
That's 2,034 total votes cast statewide since Tuesday. If we assume that each field team has a shuttle van that leaves every hour from 9am-3pm, and that every van has 7 seats, then 2,034 voters have cast out of a possible 5,880. In other words we're getting close to 35% of our capacity. The stats aren't broken down by peak hours but I'd hazard a guess that we're hitting nearly 60% of our capacity from 11am-2pm.
I'm OK with these figures and buoyed by the upward slope of the stats. I'll tell you why. Early voting doesn't commence Monday with the end of voter registration in Ohio (when "Golden Week" is over). Ohioans can continue to vote at Early Voting Centers until Monday, November 3rd. More than directly increasing voter turnout, this week probably did more for simply generating a good vibe among college students (and their friends and families by word of mouth) that they've already helped make a difference in this Election.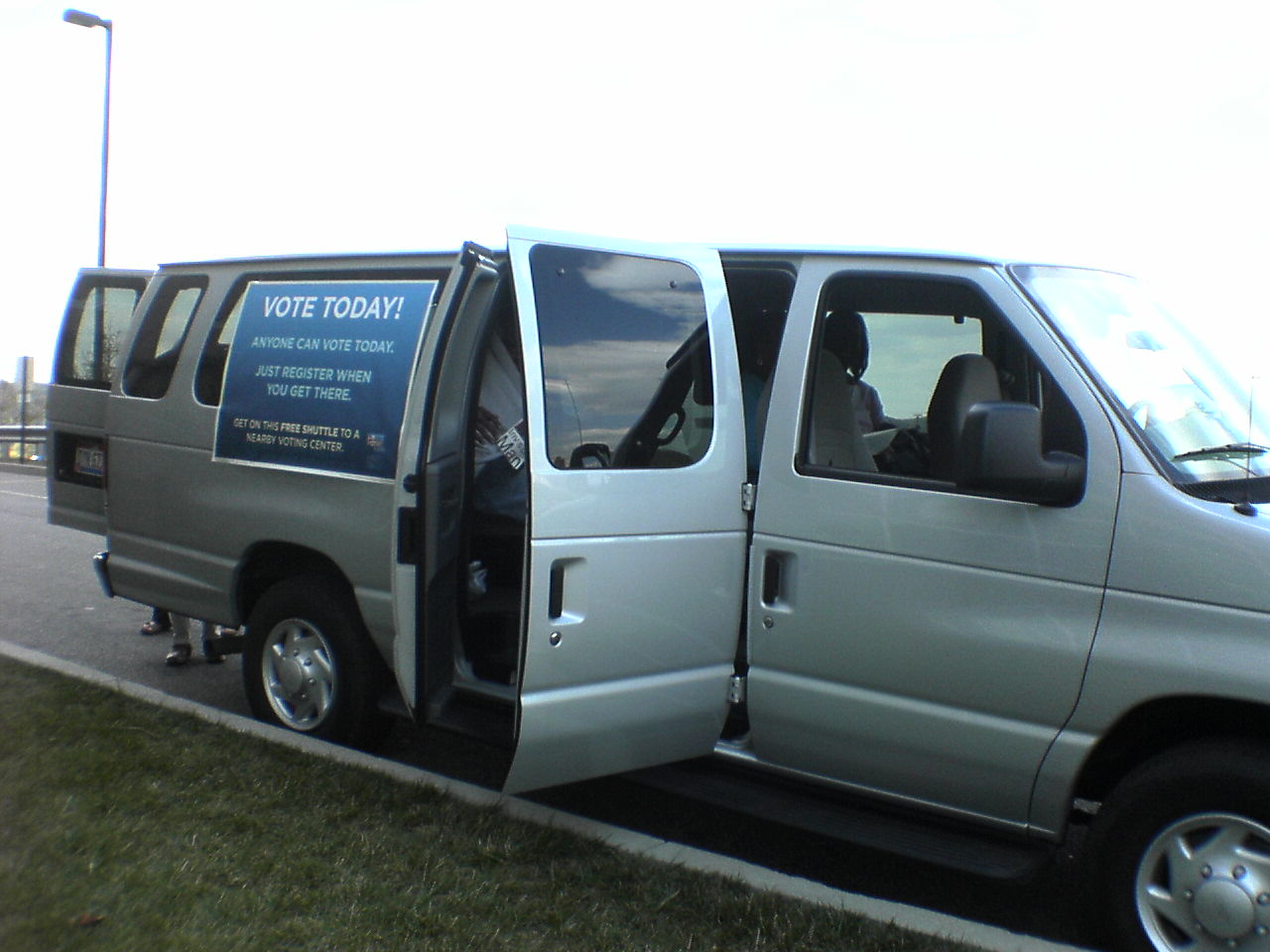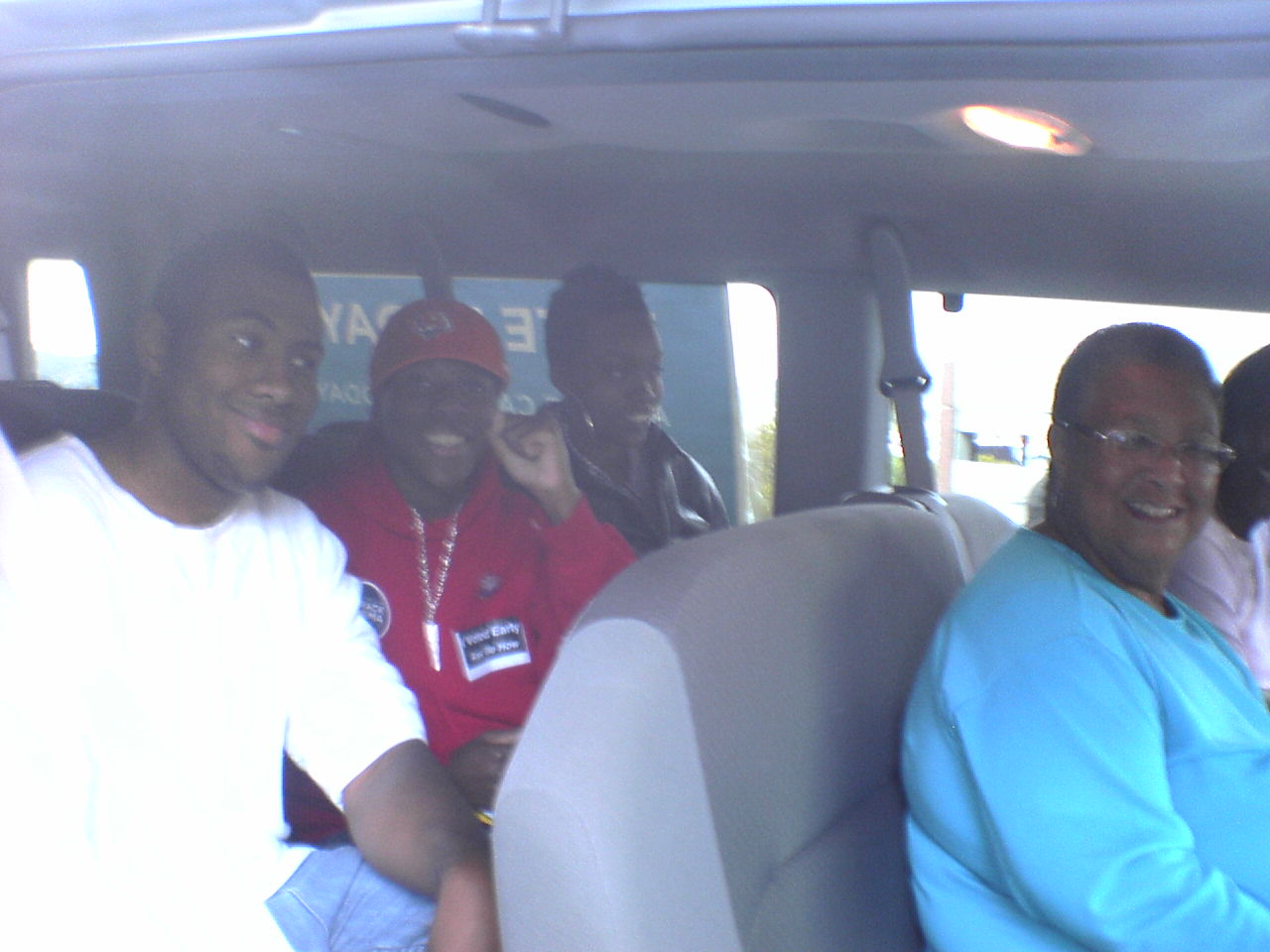 ELECTION DAY IS NOW. From my own experience talking to folk on campuses, plenty of voters simply wanted to know the address of the Early Voting Center in Hamilton County (it's the Board of Elections office at 824 Broadway Street in Downtown Cincinnati, 2nd Floor) so that they could get down there on their own at their convenience. I also heard the best reason for voting early when a voter (pictured above) convinced a friend to vote at our table, "Vote today 'cause November 4th might be cold!" Word.
In these stats, we may also be seeing the outcome of the intense new voter registration efforts by groups like moveon.org. From the stats above, it looks like a little over half of the voters we've shuttled had already registered. There is plenty to be enthusiastic about in this race but from the level of enthusiasm I saw among our college students at Cincinnati State University this week, I'd wager that many of these were newly registered voters.
Yesterday, I finished the t-shirts I promised the Cincinnati early voting teams. This is the first stencil I've made and below is the result. What do you think? We didn't have enough teams or volunteers to justify a silk screen, thus these lo-fi spray painted shirts.
For those wondering how to do this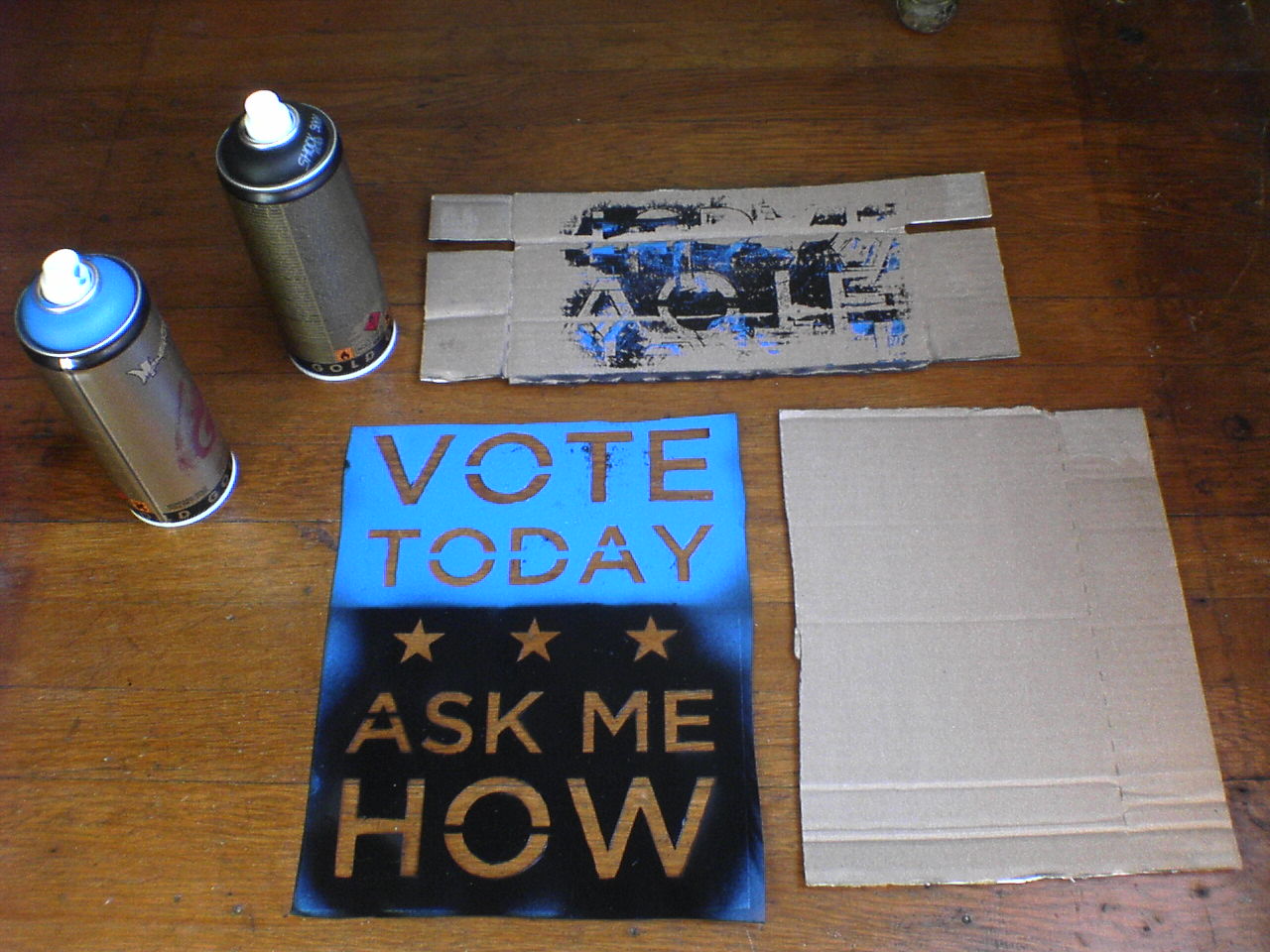 I didn't have a frame to reduce splatter around the stencil, so I wrapped the t-shirt over a slightly smaller cardboard sheet I cut from a box. By laying the t-shirts flat over the backing I was able to adjust the shirt for where I wanted the image and then wrapped the sides and back of the shirt around and underneath the cardboard. By the way, if you'd like to download this stencil and make your own shirts, I have it available for download. Link: VOTE TODAY OHIO T-SHIRT STENCIL ART.

"Vote Today * * * Ask Me How"
is shared by Aharon N. Varady with a
Creative Commons Attribution-ShareAlike 4.0 International
copyleft license.