Branch becomes staff and
staff becomes spear, this strange tree —
so straight, so twisted
This misshapen branch…
taken from which tree, grandson?
It knows One from two.
Two skewered scream (as) ONE.
Branch of which tree, grandson, this
unflowering spear?
---
Haikus offered in commentary to Parashat Pinḥas 2011-2014, originally for Avi Strausberg's Torah Haiku project.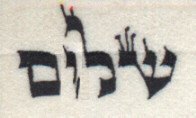 "Pinḥas Haiku Iterations"
is shared by Aharon N. Varady with a
Creative Commons Attribution-ShareAlike 4.0 International
copyleft license.